Are you interested in competing for the title of Miss Rodeo North Dakota Winter Show 2018, or Junior Miss Rodeo North Dakota Winter Show 2018?
CLICK HERE for rules and an application! For additional information, contact the pageant director, Sam Bishop, at 701-412-8690, or email sam_bishop16@yahoo.com
Congratulations to our 2017 NDWS Rodeo Queens!
Kara Berntson - 2017 Miss Rodeo North Dakota Winter Show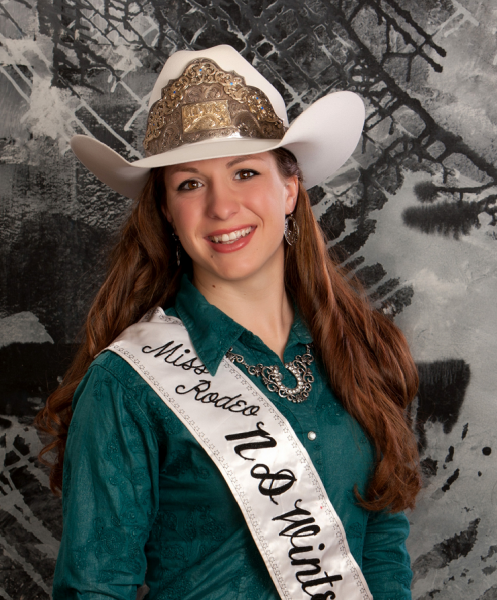 Kara Berntson is the 21-year-old daughter of Neal and Marla Berntson, of Kulm, ND. She is currently a senior at NDSU, pursuing a bachelor's degree in Animal Science with a minor in Equine Science. Upon completion of her studies, she hopes to get involved in animal genetics. Kara is an active member of NDSU Horsemen's Association and NDSU's IHSA Equestrian Teams. She competes on both the NDSU Hunt Seat Team and NDSU Western Team throughout the school year.
Kara is a member of Triple R Coteau Horse Club, Ashley Rodeo Club, and is reporter for the NDSU Horsemen's Association. She would like to thank Ag Outfitters of Kulm, ND for sponsoring her during the North Dakota Winter Show.
Eva Vangsness - 2017 Junior Miss Rodeo North Dakota Winter Show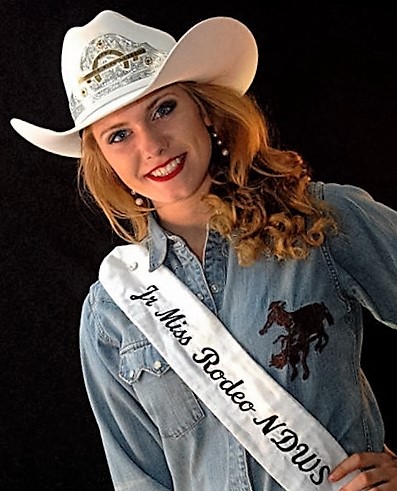 Eva Vangsness is the 16-year-old daughter of Gerald Vangsness and Diana Hersh, of Walcott, North Dakota. She is the youngest in her family and has two brothers. Eva attends Kindred High School and will be in the graduating class of 2019. She is very active in High School Rodeo, FFA and Speech, and belongs to other rodeo associations as well. Her future plan after graduation is to go into nursing, as she is passionate for helping others.
When Eva was crowned Junior Miss Rodeo North Dakota Winter Show. She stated "All those hard months of studying and practicing have paid off". "I could not have done it without all of my friends and family, who have supported me while I go after my goals. Winning this title has been one of my major goals for the year and I achieved it!" I like the quote by the famous actor John Wayne, "Courage is being scared to death, but saddling up anyways".