Glen Smith
---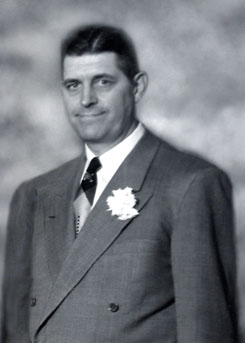 Dr. Glenn S. Smith was born in Antler and graduated from Dickinson High School. He received his B.S. degree from North Dakota Agricultural College in 1929, his M.S. degree in plant breeding from Kansas State in 1931 and his Ph.D. in plant breeding from the University of Minnesota in 1947. Smith and his wife, Doris, have three children. They recently celebrated their 72nd wedding anniversary.
Smith has made significant contributions to North Dakota agriculture in the form of research and release of the durum varieties "Carleton", "Stewart", "Stewart 221", "Vernum" and "Nugget". HRSW varieties he was responsible for were "Conlon", "Justin", "Dakuru", "Fortuna", "Tioga" and "Waldron". Both his durum and spring wheat varieties were characterized with having good quality, high yield and disease resistance. Smith's varieties helped stabilize wheat production for North Dakota farmers. "Waldron" was considered a milestone variety because it was a step above all other available varieties and has remained an important variety for many years, providing North Dakota farmers with millions of dollars of annual additional income. He worked as a USDA Durum Breeder at the Langdon Experiment Station and NDAC in Fargo. He also served as Chief of the Division of Plant Sciences, Dean of the Graduate School, first oat breeder and leader of the Wheat Breeding Project dealing with sawfly resistant wheat all at North Dakota State University.
"What might be his greatest contribution to North Dakota," noted Gerntholz, "was his basic early work and development of germplasm in durum wheat which still influences progress in the durum breeding projects in North America." Among Smith's awards are: Who's Who in the Midwest, American Men of Science and Blue Key Doctor of Service Award.
Year Inducted: 2003
Quick Contact
---
Location:
700 7th St. SE
Valley City, ND 58072
Mailing Address:
PO Box 846
Valley City, ND 58072
Phone: 701-845-1401
Email Us
---