Dr. Jack Carter
---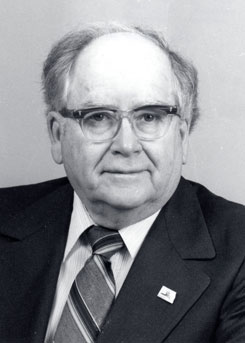 From a farm in western Nebraska, where Dr. Jack F. Carter was born in 1919, an influence was started that would eventually touch the lives of thousands of farmers and ranchers in North Dakota. Upon leaving that farm, Jack Carter received a B. S. degree in Agronomy from the University of Nebraska (with Distinction), his Masters from Washington State University and his Doctorate from the University of Wisconsin.
He started his career in North Dakota as an Associate Professor of Agronomy at North Dakota State University in 1950. During those early years he began the forage crops teaching and research program at the Main and Branch Agricultural Experiment Stations across the state and the first grazing trials at the Main Station in Fargo. In 1960 he became Chairman of the Agronomy department, leading NDSU to national and international leadership with a greatly expanded curriculum in undergraduate and graduate teaching, in the seedstocks program, and in crop breeding and weed science research. After his retirement as Department Chairman in 1987, Carter was named Professor Emeritus of Plant Sciences at NDSU, and he continues to work with the ND Oilseed Council as a flax consultant in research, promotion and utilization, and president of the Flax Institute.
Dr. Jack Carter's dedication to the Agronomy field has contributed many millions of dollars to North Dakota's agricultural economy.
Year Inducted: 1999