Jerry Effertz
---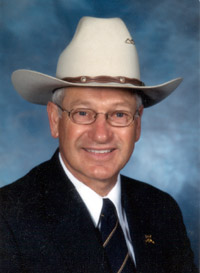 Jerry Effertz is an active cattle rancher in the Velva, ND area. He began farming and ranching in the 70's and, through cross-breeding and artificial insemination, developed a purebred Limousin herd. Today the operation is known as Effertz Black Butte Acres, also home to Black Butte Adventures, an agriculture and nature tourism destination.
In addition to being a progressive and lifelong livestock producer, Effertz has contributed greatly to our state's agriculture industry, through his involvement on numerous ag and community organizations. He is a founding member of the ND Limousin Association, has been a member of the ND Stockmen's Association for over 50 years, is a member of the ND Beef Commission and is also on the State Board of Agricultural Research and Education. He was involved with the initiation of the ND Junior Beef Expo and the ND Junior Point Show Program, which created incentives for youth to become more actively involved in the exhibition of cattle, while supporting and enhancing the fairs and livestock shows held in rural ND communities.
Effertz has also supported North Dakota's beef industry internationally, as a Federation of State Beef Councils Director since 2009, and has been a director of the U.S. Meat Export Federation and served on numerous national joint checkoff committees. In 2011, Effertz, along with a delegate from the U.S. Meat Export Federation, represented the U.S. beef industry on a trade mission to the Pacific Rim.
His honors include NDSU's Outstanding Agriculturist Award, the Agri-International Stockman of the Year Award and the GNDA Agriculture Award.
Year Inducted: 2016
Quick Contact
---
Location:
700 7th St. SE
Valley City, ND 58072
Mailing Address:
PO Box 846
Valley City, ND 58072
Phone: 701-845-1401
Email Us
---