James Marshall Sr.
---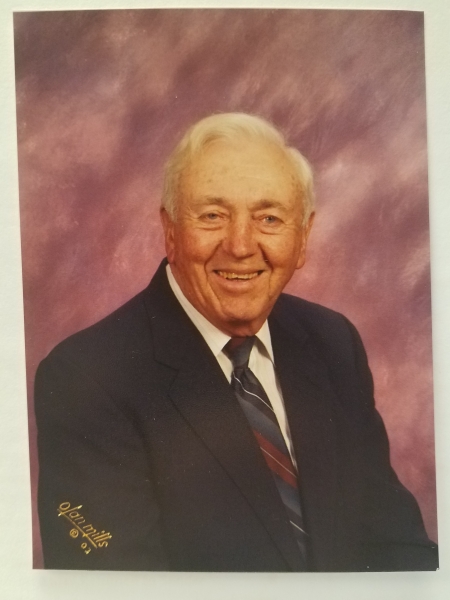 James Marshall Sr. was born on his grandfather's homestead near Oriska, ND on July 28, 1925. He attended the Noltimier Consolidated School and graduated in 1943. When his father retired from farming in 1946, James took over the family farm. In 1955, he married Leona Lux from Verona, ND, and they made their home on the family farm along with their six children: James Jr., Rob, Jay, Lee, Curt, and Janice. They also have nine grandchildren and six great-grandchildren.
James Sr. spent his entire life on the family farm, where he and his family have been breeders for over 70 years raising purebred Columbia and Suffolk sheep under his guidance. Farming and livestock were a big part of James Sr's life and he worked to dedicate his farmstead to the betterment of the Ag Industry.
James Sr. was a leader in the industry, organizing the original ND Lamb and Wool Producers Association and serving as its first President. He helped organize the state ram sales, the sheep show at the North Dakota State Fair, as well as starting and managing the sheep show at the North Dakota Winter Show where he was awarded special recognition for his contributions. Additionally, James Sr. was the founding father of the Columbia Sheep Breeder Association, with Marshall genetics being the basis for many sheep flocks throughout the United States.
James Sr. was also very involved in his community: he was a 4H Leader for 26 years, served as the Barnes County Farm Bureau Director, and was also a member of the Eagles Aerie #2192. He served on many boards including the ND Winter Show, the Oriska School, the Salem United Methodist Church, the Hillside Cemetery, and the ND Farm Bureau Livestock Advisory Boards. James Sr. was awarded the NDSU Saddle & Sirloin Agriculturist of the Year in 1979, and was honored with the Silver Bell Award from the Columbia Sheep Breeders in 1985 where he was also named their Sheepman of the Year.
James Marshall Sr. passed away in 2010, but will be truly missed to this day due to his endless hours of volunteering to the sheep & agriculture industries, the youth of 4H, his community, and the state of North Dakota. The farmstead is still in operation today under the guidance of James Sr's son, James Jr, and is where Leona continues to live.
Year Inducted: 2018