Robert Carlson
---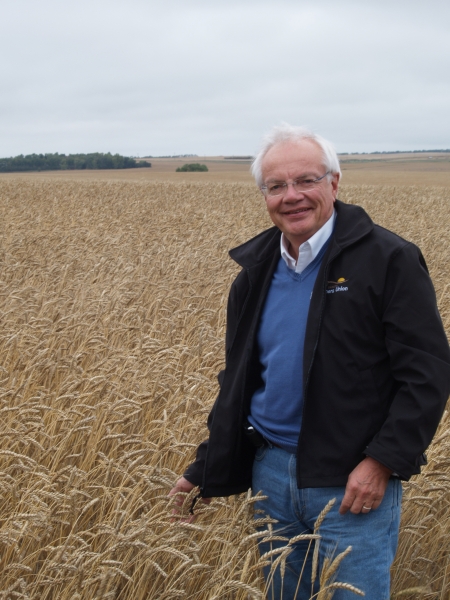 As a farmer, former president of North Dakota Farmers Union, and the first president of the World Farmers Organization based in Rome, Robert Carlson has worked tirelessly to improve the economic conditions of farmers and rural citizens everywhere through innovative initiatives.He pioneered the Carbon Credit Program to put millions of dollars into the pockets of farmers in exchange for sequestering carbon in their soil to limit greenhouse gas emissions; helped establish Dakota Pride Cooperative, which markets identity-preserved crops globally; and launched a farmer-owned restaurant in Washington, D.C. – now a chain of Founding Farmer restaurants – for farmers to earn a greater share of the consumer's food dollar.
Carlson was instrumental in passing the first-ever disaster assistance program for U.S. livestock producers in 1997, after blizzards and flooding claimed the lives of 110,000 head of cattle in our region. He also spearheaded the Rally for Rural America in 2000, the largest gathering of farmers ever in our nation's capital (more than 4,000), to draw attention to the economic crisis gripping farm and rural economies.
As a global thinker, Robert implemented a number of humanitarian efforts beyond North Dakota's borders, including on-the-ground rebuilding in rural Mississippi after Hurricane Katrina, and delivery of North Dakota wheat to starving widows and children in Afghanistan.
Carlson served as the United Nations Special Ambassador of the International Year of Family Farming in 2014, and also was appointed to USDA's Agricultural Trade Advisory Committee for Grains and Oilseeds.
He grew up on a family farm near Glenburn and served in the Vietnam War. He holds advanced degrees from Minot State University and the University of North Dakota. As a history enthusiast, he coauthored several works, including The Legacy of North Dakota's Country Schools. He and his wife raised two sons on the Carlson farm, along with small grains and bison.
In his spare time, Carlson enjoys reading, biking, hiking, and repairing things. He has always believed that farming is the most important job in the world.
Year Inducted: 2019